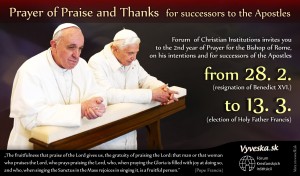 We invite you to the 2nd Year of Prayer for the Holy Father Francis, to his intentions and successors of the Apostles. Especially we want to remember emeritus of Pope Benedict XVI in prayer, who we accompanied the last nine days in the service of the Successor of Peter year ago. At the same time we want to unite in prayer for all the successors of the Apostles, especially our bishops.
 The initiative will run from Friday 28 to February 2014 (resignation of Benedict XVI.) until Thursday 13 to March 2014 (election of Pope Francis). You can join the prayer by filling out the form below. If you sign up by Tuesday 10th February 2014 your name will be on a list to sent to the Holy Father.
The fruitfulness that praise of the Lord gives us, the gratuity of praising the Lord: that man or that woman who praises the Lord, who prays praising the Lord, who, when praying the Gloria is filled with joy at doing so, and who, when singing the Sanctus in the Mass rejoices in singing it, is a fruitful person."
(Pope Francis)
We want to pray, but God is far, we do not have the words, the language, to speak with God, not even the thought.
(Emeritus Pope Benedict XVI)
"Prayer always comes before the majesty of God, every time it is prayer of the heart. Let us pray that our prayer come before the majesty of God and was a bit of hope for all of us.
(Pope Francis)
I want to participate (form)
Contact:
František Neupauer, neupauer@fki.sk, 0905 783 748